It's time again to celebrate St. Patrick's Day!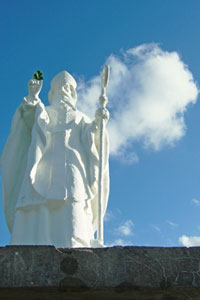 The life of the most famous patron saint in Ireland is celebrated around the world today with parades,music, food and fun.

Did you know that St. Patrick was captured and taken to Ireland as a slave when he was sixteen years old? He escaped and returned years later to spread Christianity throughout the country.

Although many stories have been written about St. Patrick, two documents written by St. Patrick himself have been preserved since his life in the fifth century. "The Letter to Coroticus" and the "Confession", both written in Latin, are considered Ireland's oldest works of literature.

When you visit Ireland, you will enjoy the many sites associated with St. Patrick's life. You will notice his name on streets,cathedrals, colleges and other institutions across the country.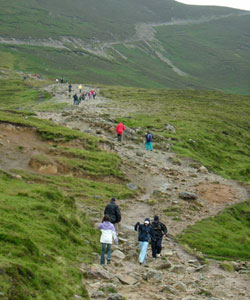 Croagh Patrick is the mountain named for St. Patrick. It is near the beautiful town of Westport on the west coast of Ireland. On the last Sunday in July, thousands come to climb to the chapel at the summit. This is traditionally done as a pilgrimage and many make the trek on the rocky path barefoot!The views along the way are beautiful!

If you are not lucky enough to be in Ireland on St. Patrick's Day, look for a local parade or celebration and join in for music, food, drink, and fun!


Cheers!


Patricia


To read more about St. Patrick and Ireland, go to the Majestic Castles in Ireland website .

Thanks!