Visit Belleek Castle Hotel in County Mayo, Ireland
Belleek Castle is a four-star hotel located outside of Ballina, County Mayo, in Ireland's West region. The castle hotel is in a beautiful, secluded setting on 1,000 acres. The castle name is not to be confused with the town of Belleek (where the pottery factory is) which is an hour and a half away.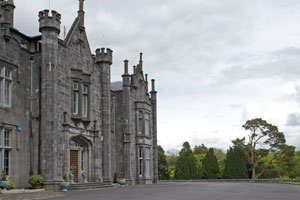 © Patricia McKinney-Lins
When you get to the town of Ballina, you will see the River Moy. The scene of people fishing on the banks and the old buildings on either side of the river reminds you of an old painting. The river is famous for providing salmon; if you stay at Belleek Castle, you may be lucky enough to sample it for dinner.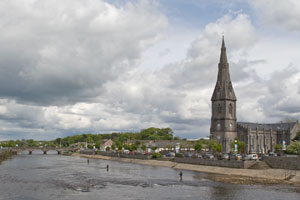 © Patricia McKinney-Lins
The castle hotel has been described as cozy, informal and friendly. Antiques and nautical artifacts add to the décor of this ancestral home of the Earl of Arran. The accommodations, service and food get good reviews on sites such as TripAdvisor.com (link opens in a new window), and ireland-guide.com (link opens in a new window).

The Armada Bar is a recreation of the Captain Ward Room from the galleon of the Spanish Armada. It is partially constructed from oak salvaged from a shipwreck on the coast of County Mayo four centuries ago.

Granuailes Candlelight Restaurant offers diners fresh salmon from the River Moy, Connemara lamb (when available) and even vegetarian meals.

The owners of the castle offer wedding receptions and private reservation of the castle.

When I can't get to Ireland, I like to browse through the products offered at ShopIrish. Give ShopIrish a try; you will find just the right item to remind you of this beautiful country. Irish Shopping - The Premier web site for Irish Gifts, Jewelry and other Items

For a real taste of Ireland, go to the food ireland website and order some of the authentic Irish products. You will find the quality and service outstanding!

For more Ireland travel information, you may want to order one of these two popular travel books from amazon.com. You will use them on every trip and enjoy them as you browse at home.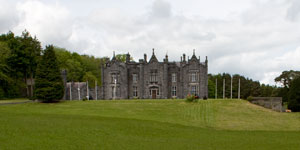 © Patricia McKinney-Lins
You will enjoy many activities in the Ballina area. Miles of walking trails are available right on the castle grounds. Golf courses, an indoor riding arena, squash facilities, surfing spots, fishing opportunities, and archaeological sites are all closeby. The location is near Sligo, Westport, and other interesting County Mayo towns.

The Ballina Salmon Festival is held every July. See the County Mayo-Ballina website (link opens in a new window) for details.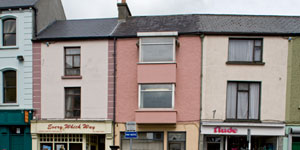 © Patricia McKinney-Lins
If you want an old world castle lodging experience, give Belleek Castle a try! Go to the Belleek Castle website (link opens in a new window) for more information.

When you get to Ballina, follow the signs to the castle. The signs are a little confusing, so have a good map. A GPS system is always handy when driving in Ireland, although you still have to have a good idea of where you are going!

Here is a map of the area near Belleek Castle:

I'd love to send you interesting tidbits about Ireland and its castles from time to time. Please join our newsletter group by entering your email address below. You will also receive access to the report titled My Favorite Five Irish Castles.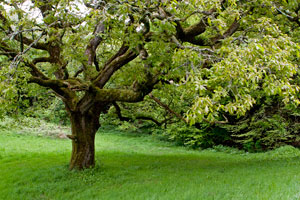 © Patricia McKinney-Lins
Return to Home Page

Return from Belleek Castle to Ireland West Castles