Ireland Travel Destinations
Where will you visit while in Ireland? There are so many Ireland travel destinations, so many castles and other historic sites to see, so many activities to participate in and so many beautiful landscapes to view. The choices can be overwhelming.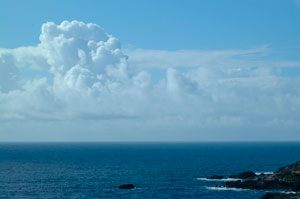 © Patricia McKinney-Lins
© Patricia McKinney-Lins
The National Tourism Development Authority of Ireland has divided the island into eight regions including Northern Ireland.
Starting with the region near Shannon Airport, continuing more or less counter-clockwise and ending with Northern Ireland, the Ireland travel destinations include:


The Shannon Region,
Ireland West,
The Southwest,
The Southeast,
The Dublin Region,
The Midlands and East Coast,
Ireland Northwest and
Northern Ireland.

Here is an Ireland map:

Many organized Ireland travel tours take in a bit from each region to give you a sampling of the whole island.

Ireland is about 170 miles wide and 300 miles long. The roads, however, are narrow and winding, so traffic is relatively slow, except on a few main highways.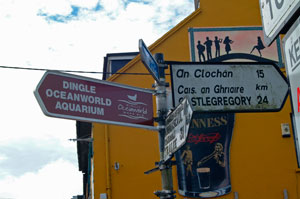 © Patricia McKinney-Lins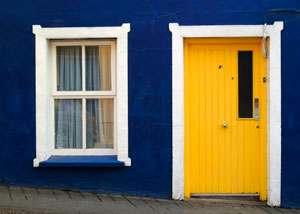 © Patricia McKinney-Lins
On my first trip to Ireland, my friend Mary and I spent 15 days seeing many parts of the country, including Northern Ireland. At that time (1998) there was still the lingering question of safety in Northern Ireland remaining from the internal fighting ("the Troubles") that had occurred for years. Peace agreements have since been signed and implemented. The Irish people will assure you that Northern Ireland is perfectly safe these days and tourists are very welcome.

On other trips to Ireland, I have taken the time to explore and enjoy one Ireland travel destination. On one Ireland travel vacation with my children, we stayed in Dingle Town for three weeks. We made day trips from there, but also stayed around town, explored the beaches, hiked the trails and read books in our room on the rainy days.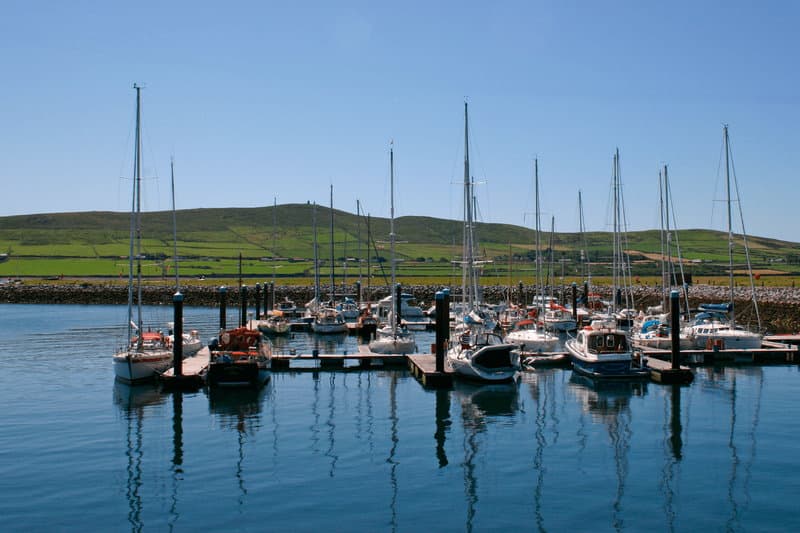 © Patricia McKinney-Lins
© Patricia McKinney-Lins
If you choose castles as your Ireland travel destinations theme, you will have no shortage of possibilities. You will want to consider how much packing and unpacking you want to do, how much time you want to spend sightseeing and how many castles you would like to tour.

© Patricia McKinney-Lins
© Patricia McKinney-Lins
Do you prefer the cities or the rural areas? A mix of both is easy to manage. According to the Dublin Chamber of Commerce, Dublin City and County has the largest population at about 1,345, 400. 1.9 million live in the greater Dublin area, which is a region comprising Dublin and the Counties of Meath, Kildare and Wicklow, which accounts for about 40% of the State's population.

Next is Belfast, the capital of Northern Ireland at 339,579, according to the Belfast City Council. Cork metropolitan area is at 417,000, the Cities of Limerick  and Derry have an estimated 90,000 plus people. Galway has grown to about 80,000. Newtownabbey, Dun Laoghaire and Bangor each have more than 60,000 people. You may want to stay in or near a city and make day trips to explore castles and other sites.

The terrain of Ireland is quite varied. You can experience a variety of Ireland travel destinations within a short distance. The coastlines, the mountains, the cliffs, the meadows, the rivers, lakes and waterfalls are available throughout all the regions of Ireland.

When you are deciding on your Ireland itinerary, just remember that you will have a great time, see amazing and beautiful sites and meet wonderful people no matter where you go. Pick a course and have fun! You won't be disappointed.