Irish Desert Recipes You Will Want to Try
Irish desert recipes are favorites among the people of Ireland as well as those from other countries. You will find delicious deserts made in homes, bakeries, and restaurants throughout Ireland.
Irish food and recipes are enjoyed all over the world today; the traditions have been preserved and shared by emigrants relocating to new countries for years.

Among the Irish dessert recipes are Irish whiskey cake recipes, recipes for Irish wedding cake, an Irish bread pudding recipe, Irish cookie recipes, Irish cream cheesecake recipes, and an Irish cream fudge recipe. You will want to try several Irish desert recipes and add your favorites to your traditional Irish meals.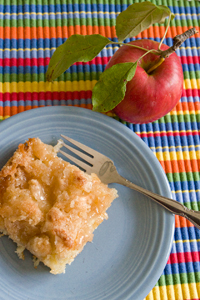 © Patricia McKinney-Lins
Here is an apple cake recipe that my mom, Elizabeth, makes as a special treat with fresh apples in the autumn of the year. Give this recipe a try!

Mom's Apple Cake

2 cups flour
3 teaspoons baking powder
1 teaspoon salt
½ cup sugar
2 tablespoons butter
1 egg beaten with a fork plus enough milk added to measure 1 cup
3 large apples

Cream butter and sugar together.
Mix flour, baking powder, and salt together.
Beat egg with a fork in a 1 cup measuring cup. Add enough milk to fill the cup.
Add egg mixture and dry mixture alternately to butter and sugar mixture.
Put into a 9"x13" baking pan. Top with thinly sliced apples and then add the topping.

Topping:

Crumble the following ingredients with a pastry blender or a fork and sprinkle over the top of the apples:

1 ½ cup sugar
6 tablespoons butter
6 tablespoons flour
2 teaspoons cinnamon

Bake at 325 degrees for 45-60 minutes until lightly browned and baked throughout.

You may want to serve this apple cake with whipped cream or ice cream and coffee or tea. Enjoy!

If you'd like a taste of Ireland, go to the Food Ireland website and make an order. The service and quality are great!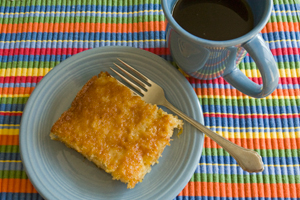 © Patricia McKinney-Lins
Here is a pineapple cake recipe that my mom, Elizabeth, makes for an afternoon snack with coffee or tea. You won't be sorry if you give this recipe a try!

Mom's Pineapple Cake

2 cups flour
2 cups crushed pineapple, drained
2 cups sugar
2 teaspoons baking soda
2 eggs

Grease and flour 9"x13" pan. Combine flour, pineapple, sugar, baking soda, eggs, and pour into the pan.

Bake at 350 Fahrenheit for about 40 minutes. Cool. Frost cake if desired.

Vanilla Frosting

1 package (8 ounces) cream cheese
½ cup butter
1 tablespoon vanilla
1 ½- 2 cups confectioner's sugar

Whip cream cheese and butter together. Then add vanilla and enough sugar to make icing spreadable.

Enjoy!

I'd love to send you interesting tidbits about Ireland and its castles from time to time. Please join our newsletter group by entering your email address below. You will also receive access to the report titled My Favorite Five Irish Castles.

Return from Irish Desert Recipes to Home Page

Return from Irish Desert Recipes to Recipes for Irish Food