Irish Potato Recipes You Will Want to Try
Irish potato recipes are among the authentic Irish recipes that remain popular around the world. The potato has been the staple of the Irish diet over history. The potato famine tragically affected Ireland, but in today's thriving country the potato is still an important part of many meals.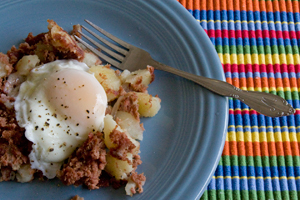 This is an Irish corned beef hash recipe that my mom, Elizabeth, makes as a breakfast meal or even as a light dinner. She recently made a meal that my sister and I enjoyed with her at her home. Try the recipe and enjoy!

Mom's Corned Beef Hash

1 pound cut-up corned beef
or
1 can corned beef
3 medium flowery (baking) potatoes
1 medium onion (white or yellow)
1 slice white bread (torn into pieces)
3 tablespoons butter
Salt and pepper
Eggs

Cube potatoes and cook in saucepan until tender, drain.
Melt butter in frying pan.
Add chopped onion, potatoes, corned beef, and bread.

Cook until nicely browned and crunchy.
Season to taste.
Serve with poached or soft fried eggs.
Serves 4-6
I hope you like it!

Here is a traditional Irish potato recipe for a dish called "Champ."

Champ

1-1.5 lb peeled and cut up potatoes
6-8 spring onions, sliced keeping the green tops
4 oz. ( ½ cup) milk
4 oz. ( ½ cup; 1 stick) butter
Salt and pepper to taste

Boil the potatoes in lightly salted water. Drain. Mash and season. Set aside.
Bring the milk and sliced onions to a simmer.
Add the milk and onions to the mashed potatoes. Add 2 oz butter and beat well.
Put the potatoes into individual serving bowls, make a well in each and put a little butter in each well.

Serve and enjoy!

Colcannon

Here is a recipe for "Colcannon," one of the most well-known Irish potato recipes. Traditionally, Colcannon was served in Ireland on Halloween. The Colcannon would often contain charms such as a horseshoe for good luck, a coin to symbolize riches, or a ring for marriage. This Irish recipe was originally made with kale, but is now commonly made with cabbage.

2 lbs. potatoes, peeled and cut into quarters
2 lbs. cabbage, washed and shredded
4 leeks or scallions, trimmed and finely chopped
1 cup milk
Salt and pepper to taste
4 oz. (½ cup, 1 stick) melted butter
Pinch of mace
Chopped parsley leaves for garnish

Boil the cabbage and potatoes in separate saucepans until cooked. Meanwhile, chop the leeks or scallions, add to the milk and simmer together in a pan for 5 to 10 minutes.

Drain the cabbage and potatoes. Mash the potatoes, stir in the leeks or scallions. Stir in the milk and then add the shredded cabbage, seasoning and mace. Combine very well, put into serving dish and heat through in the oven, covering with foil to prevent browning in the oven. Make a well in the center of the mixture before serving and pour in the melted butter. Serve each portion of Colcannon with a spoonful of butter and parsley for garnish.

I hope you and your family enjoy these Irish potato recipes and think of the Old Country as you savor a taste of Ireland!

If you'd like a taste of Ireland, go to the Food Ireland website and make an order. The service and quality are great!

I'd love to send you interesting tidbits about Ireland and its castles from time to time. Please join our newsletter group by entering your email address below. You will also receive access to the report titled My Favorite Five Irish Castles.

Return from Irish Potato Recipes to Home Page

Return from Irish Potato Recipes to Recipes for Irish Food