Mom's Irish Potato Soup Recipe
This is an Irish potato soup recipe that my mom, Elizabeth, wrote for a simple and satisfying meal. She recently made a batch that my sister and I enjoyed with her. Give this potato and leek soup a try!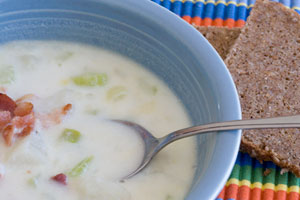 © Patricia McKinney-Lins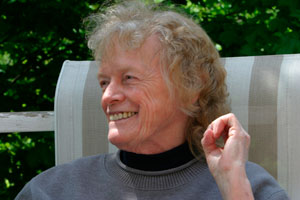 © Patricia McKinney-Lins
Mom's Potato and Leek Soup

Peel four firm baking potatoes and cut into cubes.
Put potatoes into saucepan and cover with water.
Add a little salt and boil until potatoes are slightly tender.
Add a thinly sliced leek which was thoroughly washed.
Cook until potatoes are tender. Do not drain.
Add milk to cover potatoes and then add an additional cup of milk.
Sprinkle 2 tablespoons of flour into the potato and milk mixture and stir.
Add 2 tablespoons butter.
Stir until blended and simmer until thickened slightly.
Slightly mash part of the potatoes.
Salt and pepper to taste.

Garnish the potato soup with crispy bacon crumbles and shredded cheese.

Serve with brown bread. Enjoy!

If you'd like a taste of Ireland, go to the Food Ireland website and make an order. The service and quality are great!

Return from Irish Potato Soup to Home Page

Return to Irish Recipes