Visit King John's Castle on the Shannon River
Limerick was founded by the Vikings. In 1197 King John granted a city charter because of the location on the Shannon River. The royal castle was built in about 1200, which was before King John ever came to Ireland. The castle is built in a square formation, with towers at each corner. Three corners are still standing today.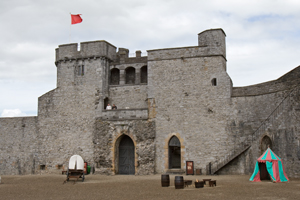 © Patricia McKinney-Lins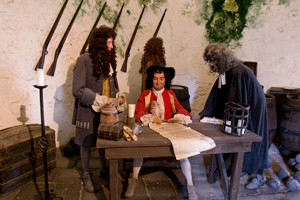 © Patricia McKinney-Lins
King John's Castle overlooks the Shannon River in Limerick City, Ireland. The views of the city and the river are very nice. The courtyard area and an inner display area have historic exhibits where "people" show you how life was in Norman times. An excavated area near the courtyard shows pre-Norman houses and fortifications.

The castle was built to intimidate the local population, but was under attack many times by the O'Briens and the MacNamaras, who captured it for a period of time in the 14th century. The castle fell into disrepair from the 14th to the 16th centuries and Cromwell's troups captured it in 1651. Barricks and houses filled the courtyard before it was cleared in the 1990s.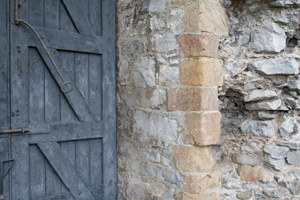 © Patricia McKinney-Lins
© Patricia McKinney-Lins
King John's Castle today is divided into four areas. The first offers an informational, if not high quality, slide show of the history of the castle. The second area outlines the battles of the castle, including the Siege of Limerick in 1691. The third area is the castle courtyard showing the trades and traditions of the 16th century, including an interesting demonstration of coin making given by a real man in a period costume. The fourth area is the archaeological site, which exposes the earlier pre-Norman levels. Free parking is provided near the castle.

When I can't get to Ireland, I like to browse through the products offered at ShopIrish. Give ShopIrish a try; you will find just the right item to remind you of this beautiful country. Irish Shopping - The Premier web site for Irish Gifts, Jewelry and other Items

For a real taste of Ireland, go to the food ireland website and order some of the authentic Irish products. You will find the quality and service outstanding!

For more Ireland travel information, you may want to order one of these two popular travel books from amazon.com. You will use them on every trip and enjoy them as you browse at home.

King John's Castle is on Nicholas Street, King's Island, Limerick. Look for the signs to the parking area across the bridge and down the street.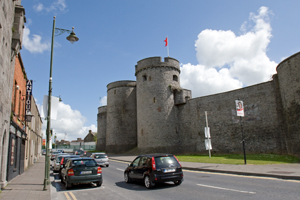 © Patricia McKinney-Lins
Here is a map of the Limerick area:

For more information and opening times, go to the Shannon Heritage website.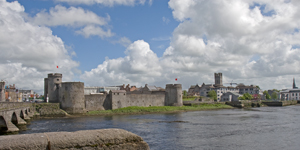 © Patricia McKinney-Lins
I'd love to send you interesting tidbits about Ireland and its castles from time to time. Please join our newsletter group by entering your email address below.

Return from King John's Castle to Home Page

Return to Shannon Castles