Tour Malahide Castle and the beautiful Talbot Gardens in County Dublin
Malahide Castle is set in a beautiful 260-acre park 8.5 miles north of Dublin within the county subdivision known as Fingal. It is worth the short trip from Dublin to enjoy a visit to the castle and the seaside resort town of the same name.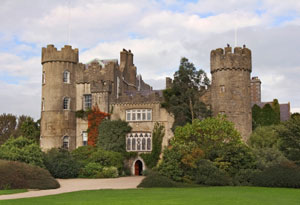 The castle has been owned by the State since the 1970s and features the extensive Talbot Botanic Gardens as well as the park and wooded areas. You will want to take photos of this well-preserved castle and the surrounding grounds.

Malahide Castle is a tower house which was owned by the Talbot family for almost 800 years. The property was awarded to Richard Talbot who came to Ireland with Henry II in the 12th century.

The castle has been built around the original 14th century tower. The great hall was built in the 15th century. The furniture, the reception rooms, the entry hallway, the corner towers and the plasterwork were all added in the 18th century. The Oak Room is built into the old tower house and features a beautiful carved fireplace.

Portraits from the National Portrait Collection decorate many areas of the Castle. The huge painting named "The Battle of the Boyne" by Jan Wyck illustrates the story of the 14 Talbot cousins who were killed in the fighting after having breakfast together at the castle.

When I can't get to Ireland, I like to browse through the products offered at ShopIrish. Give ShopIrish a try; you will find just the right item to remind you of this beautiful country. Irish Shopping - The Premier web site for Irish Gifts, Jewelry and other Items

For a real taste of Ireland, go to the food ireland website and order some of the authentic Irish products. You will find the quality and service outstanding!

For more Ireland travel information, you may want to order one of these two popular travel books from amazon.com. You will use them on every trip and enjoy them as you browse at home.

The castle even has a few resident ghosts. The "White Lady" has been known to come out of her picture and glide around the castle in the middle of the night. Another ghostly form is the spirit of "Puck" who is the castle caretaker. He lives near the great hall and has reportedly shown up in photographs!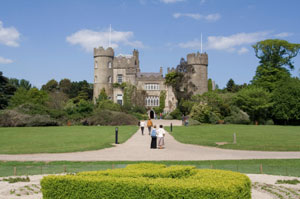 If you have the chance to explore Malahide Castle and the area of Fingal, you might want to travel north from Dublin through the rich farmland and drive back along the coastline through the resorts and beach areas.

The seaside resort of Skerries has beaches, a colony of seals and a fishing harbor. Portmarnock has a beautiful sandy beach and popular golf course.

You drive north to Malahide from Dublin by the motorway R107 or by M1 and R106.

Here is a map of the area near Malahide Castle:

Return to Home Page

Return to Dublin Ireland Vacation (Dublin Castles)