Welcome to Shannon Ireland Airport

Shannon Ireland Airport is the main entry point to the west of Ireland. Shannon is a rural airport that has been expanded in recent years to include all the facilities necessary to serve major international airlines.
Airliners from Britain, continental Europe, and North America fly non-stop to Shannon International Airport each day. The airport is located 20 miles west of Limerick.

I like to sit in the airport coffee shop and relax while I drink a strong coffee with real cream before venturing out into the Irish countryside. There are cafes, a book and news shop, a bar and several duty-free shops at Shannon Airport for your convenience.

Buses travel to and from Shannon each day to Ireland's major cities. You can catch a ride to Ennis, Galway, Limerick and other towns on Bus Eireann or Citylink.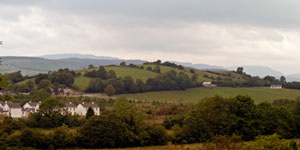 A taxi will take you almost anywhere in Ireland from Shannon. You can even get a long distance ride to Donegal. Granted, it's an expensive ride, but it's nice to have the option if you need it.

Renting a car or taking a group tour bus are common ways to depart the airport. If you rent a car, you will experience the thrill of starting on the left side of the narrow, winding road and making your way through the beautiful Irish countryside. Just make sure you have a map (and maybe a GPS system) and you're on your way!

Return from Shannon Airport to Home Page

Return from Shannon Ireland Airport to Getting There (Air Travel to Ireland)

Return to Ireland West Castles