Luxurious and Secluded Waterford Castle Ireland
Waterford Castle Ireland was built on its own island off the River Suir in the Southeast Region. The 300-acre island is now a private luxury resort including the nineteen-room castle hotel, an 18-hole championship golf course, tennis, croquet, walking trails and Castle Garden" holiday homes.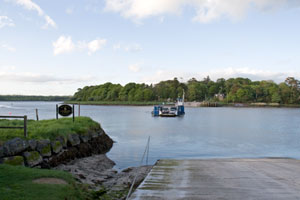 © Patricia McKinney-Lins
The history of Waterford Castle dates back to the 11th century. The island was used as a retreat by the Fitzgeralds who governed most of the south of Ireland during the 15th and 16th centuries. The original Norman tower was rebuilt in the 15th century. The present castle was added to during the 19th century.

Waterford Castle is a beautiful representation of Victorian Jacobean design with ivy, turrets and stone. The tapestries, oak doors, oak paneling, antiques and oil paintings provide the charming and luxurious character of the hotel.

The current plans for the resort include a phased development of additional rooms, a remodeled golf course, an equestrian centre, a yacht marina, and a spa.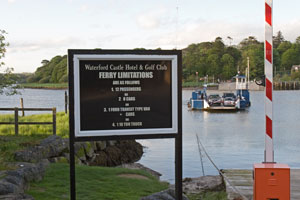 © Patricia McKinney-Lins
When I can't get to Ireland, I like to browse through the products offered at ShopIrish. Give ShopIrish a try; you will find just the right item to remind you of this beautiful country. Irish Shopping - The Premier web site for Irish Gifts, Jewelry and other Items

For a real taste of Ireland, go to the food ireland website and order some of the authentic Irish products. You will find the quality and service outstanding!

For more Ireland travel information, you may want to order one of these two popular travel books from amazon.com. You will use them on every trip and enjoy them as you browse at home.

If you get a chance to stay at Waterford Castle Ireland, you will experience a luxurious retreat located a convenient ferry ride away from the vital city of Waterford and a short drive from the sunny southeast coast of Ireland.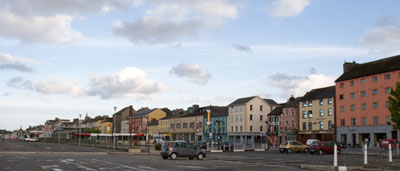 © Patricia McKinney-Lins
Waterford Castle Ireland is 100 miles from Dublin (2.5 hours) and 100 miles from Shannon (3 hours). The driving directions are described on the Waterford Castle website as follows: from Dublin N9, turn right at the train station roundabout, on to the bridge over the River Suir. Turn left at next lights on to the City quay, continue down the quay in the left-hand lane, past the Tower Hotel. At the lights immediately after the Tower Hotel turn left on to the Dunmore Road, continue past the park, and bear left at the college. At first mini roundabout turn left, continue through next two roundabouts passing the shopping centre on the right and the hospital on the left. Turn left after the pedestrian crossing and continue on this road until you see the ferry crossing to the Island and Waterford Castle Golf Club.

Here is a map of the Waterford area:

View Larger Map
Return from Waterford Castle Ireland to Home Page

Return from Waterford Castle to Southeast Castles (Ireland Castle Vacations)